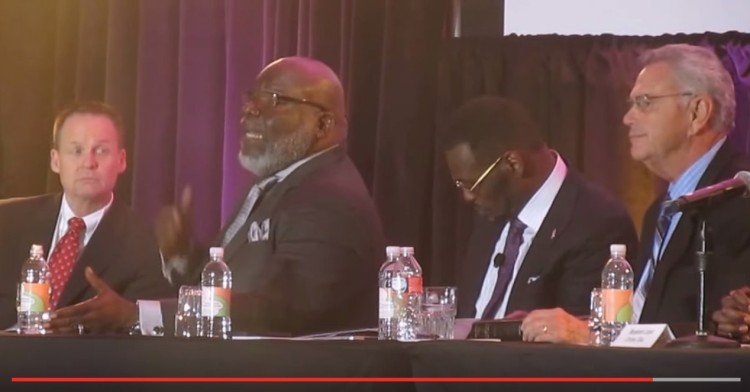 T.D Jakes is arguably one of the most recognizable ministers in mainstream America. He is the founder of The Potter's House, a non-denominational church with 30,000 members. Besides running a mega church, Jakes is also known for using his media/broadcasting skills and influence to spread the Christian ethos to millions of people globally by producing movies such as 'Heaven is for Real' a 2014 box office success, grossing  $101 million.
Despite Jakes milestone contribution in advancing the awareness and relevancy of God in America, many within the body of Christ label him a 'prosperity theologian' due to him using his pulpit platform to address the social ills affecting his congregation, who predominately live in inner-city communities.
In this video, TD Jakes responds to those who label him a prosperity preacher.
At 4:mins into the video he says, "A footnote to the clergy who's in the room, it is easy for pastors who pastor in bedroom communities with upper-level incomes to say that you shouldn't talk about money on the pulpit, but if you're going to pastor underserved communities you absolutely must talk about money."
What does the prosperity gospel mean?
Lausanne Movement share their views on what they call the 'prosperity gospel', "We define prosperity gospel as the teaching that believers have a right to the blessings of health and wealth and that they can obtain these blessings through positive confessions of faith and the "sowing of seeds" through the faithful payments of tithes and offerings."
 Relevant Bible verse:
"Do not let any unwholesome talk come out of your mouths, but only what is helpful for building others up according to their needs, that it may benefit those who listen." – Ephesians 4:29