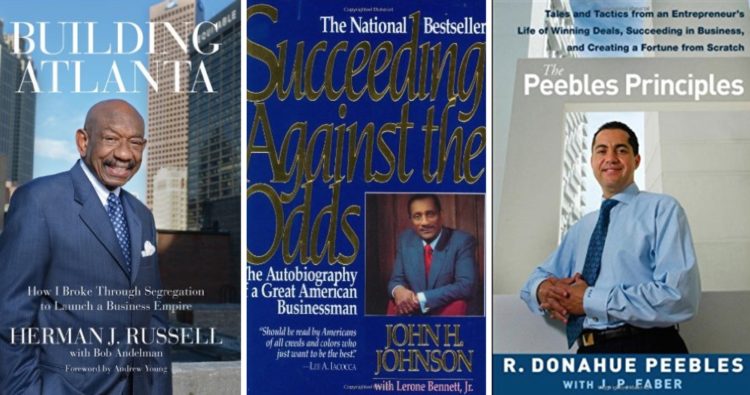 Here is a compiled list of inspiring self-made African American entrepreneurs with remarkable biographies and autobiographies.
Read into how these black Americans overcame poverty, racial discrimination to become a prominent business leader, amassing fortunes into the millions and billions.
I'm sure the lives of the individuals mentioned will inspire you to reach your full potential.
Top 17 books for black entrepreneurs 
1. A.G. Gaston – Green Power by A.G Gaston – Click here
Arthur George Gatson was born in 1892 in the Deep South and was the grandson of slaves. Although he started from poverty, he did not end there. Gatson went on to amass a fortune of over $130 million. Gatson established a financial empire with businesses in the insurance, real estate and communications sectors.
In his memoir, Gatson emphasises the importance of creating wealth by living below your means and investing savings into long-term assets.
"Don't have so much pride – Where the same suit for a year or two. It doesn't make any difference what kind of suit the pocket it is in as long as there is money In the pockets." – A.G Gatson


2. Building Atlanta: How I Broke Through Segregation to Launch a Business Empire – Click here 
Herman J, Russell was born in the Jim Crow South where he was forced to work hard at an early age. At age twelve he built his own shoeshine business and used the profits to buy an empty lot where he built a duplex.
Russell went on to create the nation's most lucrative minority-owned enterprise, turning a small plastering company into a construction and real estate empire in Atlanta.
His story proves that all obstacles can be used as stepping-stones if you never to give up. He overcame, poverty, speech impediment, racism and more, but still managed to become successful. The highlight of the book is how he used his influence to back the Civil Rights movement financially; he was a close friend of and Dr Martin Luther.
"If the front door won't open, there's a window open. If the window's closed, there's a back door. If the back door's closed, there's chimney's closed, there's still a way to get in." – Herman J. Russell


3. Doing Business by the Good Book: Fifty-Two Lessons on Success Straight from the Bible by David L. Steward – Click here 
David L. Steward is the founder of Technology, Inc, one of the largest African-American-owned businesses in America. Steward founded WWT with little start-up capital that he borrowed. In this book, he highlights the fundamental principles that made him successful including his strong Christian faith.
"Fear is just the opposite of faith because faith is the substance of things hoped for and evidence of things not seen. That requires people to change because we have been taught to believe in what we see. – David Steward"


4. On Her Own Ground: The Life and Times of Madam C.J. Walker – Click here 
Madam C.J Walker became the first self-made female millionaire in America despite the insurmountable obstacles she faced. Daughter of a slave, married at fourteen, widowed at twenty, Walker still became successful. The author of this biography, A'Lelia Bundles, breaks down how Walker went from labouring as a washerwoman for $1.50 a week to building a hair cosmetic empire.
If Madam C.J Walker can succeed in days of slavery, you can surely succeed in the world today.


5. Display of Power by Daymond John – Click here 
Daymond John was born in Brooklyn, New York, and raised in Hollis, Queens. His father walked out on him when he was ten which gave him the determination to succeed.
In Display of Power, John reveals how he started his urban clothing company, FUBU, selling hats hand-to-hand. FUBU as now grown to be a billion dollar brand.


6. To Be Loved: The Music, the Magic, the Memories of Motown: An Autobiography by Berry Gordy – Click here
Berry Gordy gives an account of how he went from a failed businessman, mediocre boxer, car-factory worker to a prominent mover and shaker in the music industry. He founded the recording company, Motown with the help from a $800 loan from his family.
In his memoir, he explains how he launched Motown by converting his garage into a recording studio. His record label went on to change American music with artists such as The Jackson 5, Stevie Wonder, Diana Ross and Smokey Robinson. Motown was the highest earning African-American business for decades.
"Don't judge yourself by others' standards…have your own. And don't get caught up into the trap of changing yourself to fit the world. The world has to change to fit you. And if you stick to your principles, values and morals long enough, it will." – Berry Gordy


7. Succeeding Against the Odds: The Autobiography of a Great American Businessman – Click here 
Succeeding Against the Odds is an inspiring autobiography of the life of John H. Johnson. He gives an account of how he was able to build Ebony, Jet and EM magazines from scratch making him one of the wealthiest Americans and a member of the FORBES 400.
"I learned how to work before I learned how to play." – John H. Johnson


8. Why Should White Guys Have All the Fun? How Reginald Lewis Created a Billion-Dollar Business Empire – Click here 
At age six Reginald Lewis said to his grandparents "Why should white guys have all the fun?" after they asked for his opinion about employment discrimination against blacks.
This biography reveals how Lewis became one of the wealthiest black men in history from humble beginnings. Lewis was raised in a working- class neighbourhood in East Baltimore, attended Harvard Law School and soon after became one of Wall Street's top dealmakers. His personal fortune was estimated at $400 million at the time of death.


9. Black and White: The Way I See It by Richard Williams – Click here 
Richard Williams is a self-made businessman and known for being the father of the greatest tennis duo of all time, Venus and Serena Williams. The remarkable aspect of his life is that he masterminded a strategy to raise Tennis champions by writing a 78-page plan before Serena and Venus were even born.
Richard's earned his respect the hard way, growing up in Shreveport, Louisiana, in the 1940s; where racism, oppression and violence was a daily occurrence in his life.
"We're from the ghetto. Venus is a ghetto Cinderella. People from the ghetto don't get nervous." – Richard Williams


10. The Pursuit of Happyness by Chris Gardner – Click here 
Chris Gardner life is a true rag to riches story. The Pursuit of Happyness documents how Gardner went from living homeless with his son, sleeping in public toilets to become one of the nation's most respected stockbrokers. At the start of his career as a broker, his role entailed contacting prospective clients with his goal being 200 calls per day.
If there is one message to get from this autobiography, it is never to give up.
"Don't ever let someone tell you, you can't do something." – Chris Gardner


11. The Man from Essence: Creating a Magazine for Black Women – Click here 
Ed Lewis is the founder of Essence magazine, which is the largest circulated black women's magazine in history. Find out how he began his lofty dreams with three black men who positively impacted the lives of millions of black American women.
"We define ourselves by the best that is in us, not the worst that has been done to us." – Edward Lewis


12. The Peebles Principles: Tales and Tactics from an Entrepreneur's Life of Winning Deals, Succeeding in Business, and Creating a Fortune from Scratch – Click here 
Roy Donahue "Don" Peebles is one of the most successful real estate developers in America. He is the founder and Chief Executive Officer of the Peebles Corporation, the largest African American-owned real estate development in the United States. Peebles portfolio consists of multibillion-dollar developments from high-rise residential, luxury hotels, and commercial properties in a wide range of territories including Washington D.C, New York City, Las Vegas and more.
Peebles started from humble beginnings. He attended t Rutgers University but did not complete his degree. Instead, he became a real estate sales agent.
Peebles reveals practical insight on how anyone can become successful in the world of business.
"My first big deal made me a multimillionaire. Before that, my net worth was similar to that of most people: what I could generate in wages by providing services. But I never took my eyes off the prize, and it only took me a little more than half of my twenties to achieve my goal of becoming a multimillionaire before the age of 30." – R. Donahue Peebles


13. How to Succeed in Business Without Being White: Straight Talk on Making It in America by Earl G. Graves – Click here 
In this book, Earl G. Graves, the founder of Black Enterprise magazine gives insight on how to be empowered economically. Graves breaks down how anyone can become a millionaire and how he did it. The incredible characteristic of Graves is his ability to diversify his investments. He served as CEO to Pepsi-Cola bottling franchise in Washington D.C and also was the director of several Fortune 500 corporations.
"I have no patience with people who want to tell me what's wrong. I only want to hear from the person who first tells me the solution and then fills me in on the problem." – Earl G. Graves


14. Prince of Darkness: The Untold Story of Jeremiah G. Hamilton, Wall Street's First Black Millionaire – Click here 
When African American were slaves in the middle decades of the nineteenth century, Jeremiah G. Hamilton was busy making a fortune on Wall Street. At that time he was the richest man of colour in the United States with a fortune of $2 million, the equivalent of $250 million in today's currency.
Although I don't endorse some of the tactics he used to amass his fortune, you can only admire his drive.


15. Reallionaire by Farrah Grey – Click here 
Age is nothing but a number; Farrah Gray's life story testifies to that statement. At the age of six, his mother became seriously ill which gave him the drive to secure his financial destiny. At age 14 he sold his first business for a million dollars.
Now Gray is a successful motivational speaker.
"My grandma used to make syrup for us because we couldn't afford it and I just played around with her recipe. I made strawberry syrup and that didn't really work out but I made strawberry-vanilla and that sold. Then I just went out and took marketing classes, went to seminars, learned about marketing a product and striking deals. It ended up taking orders of $1.5 million." – Farrah Grey


16. The Billion Dollar BET: Robert Johnson and the Inside Story of Black Entertainment Television – Brett Pulley – Click here 
Brett Pulley pens the rise of media magnet and the first African-American billionaire, Robert Johnson. Johnson was born in 1946 in Hickory, Mississippi. In 1968 he graduated from the University of Illinois in 1968 with a bachelor's degree in social studies and soon received a master's degree in public affairs from the Woodrow Wilson School at Princeton University. Find out how Johnson went on to start BET (Black Entertainment Television) and build it into a billion-dollar enterprise.


17. The Wealth Choice: Success of Black Millionaires by Dennis Kimbro – Click here  
Dennis Kimbro, reveals the secrets behind the top wealthiest African Americans. Through his seven-year study of 1,000 of the richest black Americans, he gives insight on the principles, strategies they used to become high in society.
Readers will get the chance to learn about dynamic business leaders from Spee Lee, Janice Bryant Howroyd,TD Jakes and more.