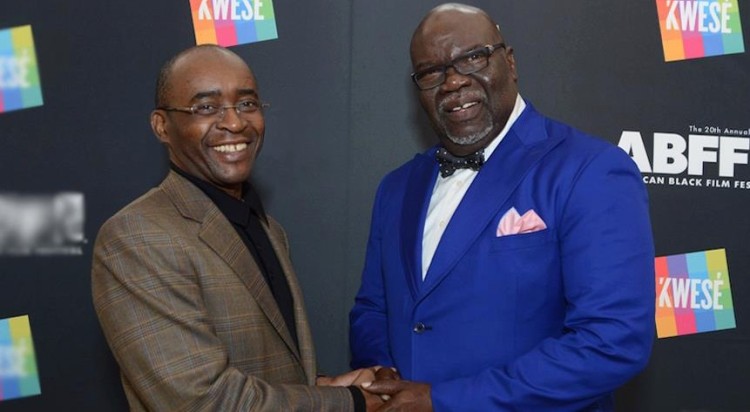 Econet founder, Strive Masiyiwa who is Zimbabwe's richest man, announced on his personal Facebook page his most recent partnership deal with Bishop T.D Jakes for his media channel, Kwesé TV.
The renowned American preacher and entrepreneur T.D Jakes has vowed to provide Strive Masiyiwa, the devote Christian businessman with film content in their arranged distribution deal.
Strive Masiyiwa on his moviel deal with Bishop T.D Jakes (Source – Here)
More than 20 years ago, I came across the teachings of an American pastor called T.D. Jakes and I would listen to him whenever I had the opportunity. Although I listened to his teachings on television and the Internet, I hadn't actually met him until a few months ago.

There I was in Hollywood, discussing programming for KweséTV with major film studios… I told them I wanted to introduce our viewers to "values-based" shows, series, and films. By this, I mean I believe there needs to be more "vision" in television and film — programs that really inspire and encourage greatness of mind, heart and spirit.
Immediately, one of them said to me: "Have you seen the movies produced by Bishop T.D. Jakes?"
"No, not really. I know he acted in one or two Christian movies, but does he also produce?"
"Where have you been?" they all said, in disbelief. "T.D. Jakes is one of the most accomplished producers in America today."
"You mean, Bishop T.D. Jakes?!"
"Yes!"
"He is also an amazing entrepreneur."
"Really?! I thought he was just a Pastor!"
"Who says he cannot be a movie producer, a singer and entrepreneur, as well? This guy is one of the best entrepreneurs in America."
"Wow!"
After leaving the meeting, I said to my team: "Find me everything you can about T.D. Jakes. I need to know what the good Bishop has been doing."
My people are very good at this kind of research and within a few hours I had my report.
All I could say was, "Wow, wow, wow!"
Bishop T.D. Jakes, has made nine films including the box office hit, "Heaven is for Real" in 2014 which grossed over $100m worldwide! He's a bestselling author and has made 20 music albums, even winning a Grammy.
Through our Hollywood contacts, we reached out to see if I could meet him to discuss how we could collaborate on KweséTV. To my surprise, it turned out that he was actually in South Africa at the time, even as I was in the US.
We agreed to meet in South Africa when we were both there.
"I have 12m followers on social media and many are in Africa," he began to tell me over a lunch in Johannesburg.
I was totally amazed by what he has been doing in the film industry, and even as an entrepreneur.
"Bishop, I want you on KweséTV," I said to him.
"Let's talk," he smiled.
It was a great meeting! Afterwards, we prayed together.
As President Barack Obama said: "What makes Bishop Jakes special is that no matter your station in life, he's there to speak with you, to pray with you, and to see you as an equal in the eyes of God."
Fast forward, many months later:
Bishop Jakes and I met on stage last weekend at the most prestigious event for the black film industry, known as the American Black Film Festival (ABFF). It is attended by mostly black industry players from the US, Africa, the Caribbean, and Europe. It's a place for buyers of programming like Kwesé to do deals with producers and studios.
Bishop Jakes and I announced that we would be working together to produce original programming, specifically for KweséTV.
Now how cool is that?
Well, watch this space. It's our time.
End.
Source: Click here