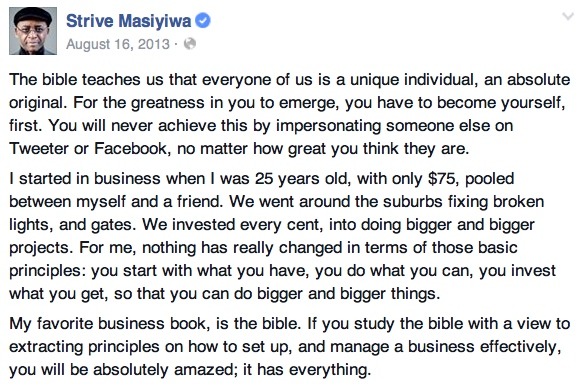 Strive Masiyiwa the founder of Econet Wireless, is known as one of African most generous humanitarians, using his wealth to provide scholarships to over 100,000 young Africans through his foundation.
Strive frequently updates words of encouragement through social media especially Facebook, in one of his post he mentioned that the Bible is his favourite book as well as favourite business book.
Source: Strive Masiyiwa Facebook profile
The bible teaches us that every one of us is a unique individual, an absolute original. For the greatness in you to emerge, you have to become yourself, first. You will never achieve this by impersonating someone else on Tweeter or Facebook, no matter how great you think they are.
I started in business when I was 25 years old, with only $75, pooled between myself and a friend. We went around the suburbs fixing broken lights, and gates. We invested every cent, into doing bigger and bigger projects. For me, nothing has really changed in terms of those basic principles: you start with what you have, you do what you can, you invest what you get, so that you can do bigger and bigger things.
My favorite business book, is the bible. If you study the bible with a view to extracting principles on how to set up, and manage a business effectively, you will be absolutely amazed; it has everything.