4 Reasons To Read 'Bible Foods That Heal the Body'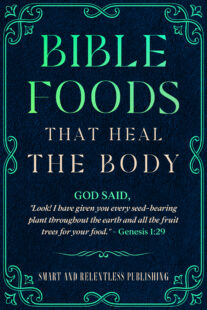 1. A healthy diet will improve concentration and mental capacity.
Eating a healthy, balanced diet does amazing things for your brain and can help you have higher levels of concentration consistently. Oftentimes, our concentration levels decrease as we go throughout our day, making our work harder and more taxing than necessary. When eating a healthy diet, your concentration levels can be consistently high, and you can always have the mental resources that you need in order to work well and work efficiently.
2. A healthy diet will improve your mood and reduce mood swings.
Nobody likes to associate with or be in proximity of somebody that exhibits drastic mood swings on a regular basis. Having mood swings can lead to being alienated from communicating with others effectively due to the fact that it's in our nature to flee from unpleasant environments.  If you find people constantly backing away from you, it might be time to get your diet in order so you can get your mood in order!
Oftentimes, we tend to eat foods that rapidly spike our glucose levels, and then send them plummeting down, causing us to feel tired and irritable. A healthier diet will ensure that you get the proper nutrition you need to get through the day without these mood swings!
3. A healthy diet will optimize your energy levels.
We all tend to deal with low energy at some point in the day and we all wish we could have the consistent energy to make the most out of the time we have! Avoiding things like refined carbohydrates and sugar and replacing them with healthier options can help get rid of those afternoon crashes and help you to be productive throughout the day.
4. A healthy diet will improve your sleep quality. 
Countless studies show that having a better diet improves your quality of sleep. If you're tired of having awful nights of poor-quality sleep, adopting the Bible's healthy diet may just be what you need to turn that around!
These are only 4 of the main benefits you can get from developing the healthy diet that is outlined in the Bible! So, what are you waiting for? Get your hands on the Bible Foods that Heal the Body today!