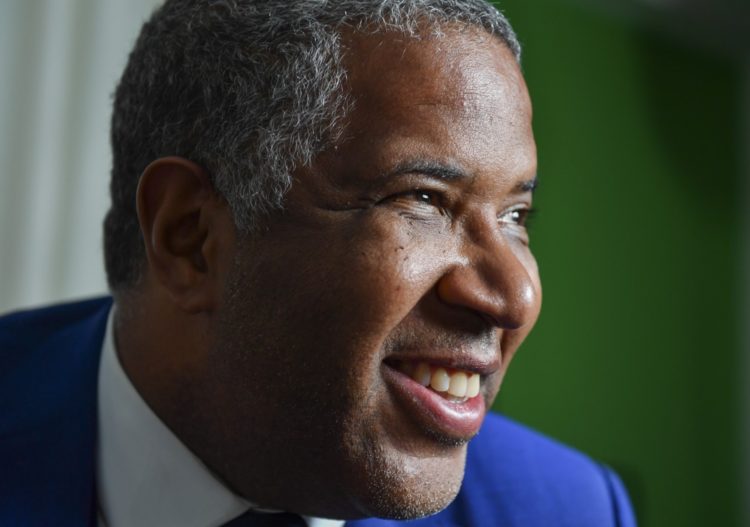 Robert F. Smith is a successful philanthropist and investor worth $3 billion and the founder, chairman and CEO of Vista Equity Partners, an American private equity firm with $6 billion in assets.
In 2016 his foundation donated over $150 million to support causes from the rehabilitation of foster kids, United Negro College Fund and many more initiatives.
30 inspiring Robert F. Smith quotes 
1. "I'm here to tell you that, by virtue of your being here today, by virtue of walking across that stage – you are enough." (Source – Commencement Address at AU)
2. "Use your skills, your knowledge, your instincts to serve – to go change the world in the way that only you can."
3. "You got to have grit. And grit mean getting turned away from thing 14, 16 times, calling someone every two weeks, everyday for 5 months and then finally it materialising in something that you want."
4. "This is the first time in history you can create wealth and not have access to capital. You just need intellectual property. A blogger who has a large audience can create wealth by attracting advertisers."
5. "Intelligence can create huge profits, and in fact, you can actually make more money being smart than you can be strong or fast." (Source – Youth Symposium)
6. "Every day I need you to set a new goal."
7. "The importance of developing intellectual property can not be underestimated."
8. "You are enough to be who you want to be and to create what you want to create."
9. "Put action to support the intention, don't say I want to be a millionaire but don't take the activities to do it."
10. "Have the vision of what you want to become, but you have to put consistent action behind that vision in order for that to manifest and it as to be consistent."
11. "If you get too much help you never really figure out how to do things and you don't develop the grit."
12. "Fight through those problems."
13. "If you can't solve easy problems now, you will not be able to solve difficult problems later."
14. "We can transcend the script of a pre-defined story, and pave the way for the future that we design. We just need to tap that power, that conviction, that determination within us." (Source – Forbes)
15. "Not everyone wants to make the sacrifice in the trade-off to become wealthier, and the first part of that trade-off is savings and investment and time." (Source – Center Global Policy Solutions)
16. "How do you spend your time?"
17. "The good news is, we follow people that look like us if the story is told the right way."
18. "With got these devices (the Internet) that you can tell a billion people your story in a matter of minutes."
19. "You have the instinct to serve, and the skills to succeed. In fact, you have skills across a number of areas. Don't separate these skills; integrate them. The future will be written by those who integrate their whole being."
20. "African Americans, I think are some of the most interesting people on the planet. We've had some of the most challenging journeys, but we've brought so much joy." (Source – NMAAHC)
21. "I am showing the current generations of African Americans they can do it, too. So the next generation can go even higher."
22. "We have to do something for our community."
23. "You should be able to drive to the airport and not be stopped three to seven times a year."
24. "The single most important part of running and winning your own race –is recognizing that you are enough and that you are an original."
25. "I ran my own race. I knew what I wanted, and my persistence paid off,…" (Forbes)
26. "We are only bound by the limits of our own conviction,"
27. "I got hooked on technology,…..The excitement of figuring a complex problem out creates a eureka moment. It's one of the best moments in life."
28. "With the process of discovery, you fail a lot," he said. "And you learn a great deal from those failures, so the next time you can avoid those mistakes."
29. "You can't be all things to everyone and still be effective."
30. "I thought, 'If they could do it, so can I,…..Now I want people to say, 'If Robert Smith can do it, I can do that and more." (Source – Washington Post)
31. "One of the things that inspired me earlier in my life was actually believe it or not the James Bond novels because as I read them, they took me and transported me into places that I had no idea actually really existed.